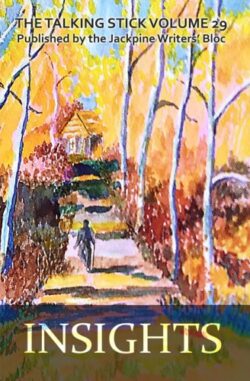 During this year of 2020 and COVID, the Jackpine Writers' Bloc have had to do things differently with more things electronically and from a distance. They were able to publish "The Talking Stick Insights Volume 29"
The Talking Stick is a publication of the nonprofit organization, The Jackpine Writers' Bloc, Inc. It is a Minnesota collaboration of poetry, creative nonfiction and fiction and we award a cash prize in each category. The goal of The Jackpine Writers' Bloc is simple – we want to encourage and publish Minnesota writers. Everyone published in this book, and all who worked to see it come to print, have a strong connection to Minnesota. In the writing within, you will find a variety of subjects and styles. And through them all, you will find that we are writers who know the length of the winter, the heat of the summer and the short breath-taking springs and autumns of Minnesota.
The Jackpine Writers' Bloc has been publishing books since 1995 – a remarkable achievement. What started as a writer's group hoping to get itself published became a state-wide literary journal. Follow them back through our years and you can see the changes in the times and the people in the volumes of the Talking Stick.
Instead of their traditional book release party they went online with Candace Simar's Zoom workshop September 19, "Go Deeper" looking at the craft of writing.
Here's a link to her presentation.https://youtu.be/RJBPM1OFYU4