Is your book club looking for its next selection? Consider choosing one of my titles. Contact me if you are interested in having me visit your group either in person or Skype. If your book club reads one of my books, send me a photo by email of your group and I'll post it on my website!
~ Candace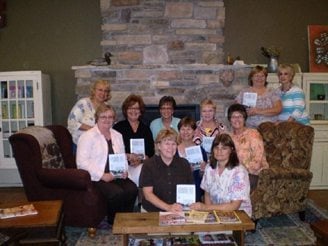 COMMENTS from Readers:
"Please convey my sincere thanks to Candace for a delightful evening with our book group. We thoroughly enjoyed it. The presentation was well done but still welcomed questions and discussion. Many have said they are going to read more of her books now, and we'll be looking for new ones from her. She was a hit!!"
Mary Gilmore
"Candace Simar was at our book group meeting last week. We all enjoyed her so much. She was actually with us at the same time her Common Grounds spot was on TV (See Farm Girls on Lakeland TV), so we all watched it together. It was a great evening. She has so much knowledge to share, and her childhood on a dairy farm is soooo similar to my own. I feel like she could have been a 'neighbor girl down the road!'" ~ Kathy Soukup
"Hi Candace, I bought your three books at the Park Rapids Talking Stick Release party. Just wanted to tell you how much I enjoyed all three. I started reading, didn't want to put them down and was sorry went the saga was over.
Your characters are so real and your writing so riviting I have been raving about the Abercrombie Trail series to everyone I see. I feel my ancestors could have been some of the people in your story and reading gave me a better understanding of those pioneering people in Minnesota. Going back in time to areas now familiar to me was very exciting, and I knew so little of the indian uprising, you have given me an education of that era in our history. I am so glad I bought all three books and not just the first one. I will look forward to reading more of you work." ~ Jeanne
"Last weekend I left my copy of your book with my grandson who is in 6th grade, the grade in which MN history is traditionally taught. I offered him an incentive for reading your book: every 50 pages that he reads, then summarizes in a one page report, and sends to me; I will send him back $5. So he can make as much as $25 if he accepts the challenge of reading and writing to me about your book. That's how convinced I am that your book really does bring history to life."
Sincerely, Reta
"If any of you are interested in Minnesota pioneerhistory you must get the series of books by Candace Simar, one yet to be released. She is a superbhistorian and a wonderful writer. Unless you are over 100 years old you have never heard these amazing stories of our past, only the faint echoes. " ~ Jack Lambert
"You are so much fun to have join with us in our discussions. the background you share is wonderful!" ~ Bev S
"Waiting anxiously for your next book!" ~ Carolyn S
"Thank you! Thank you! Your research for "Pomme de Terre" is outstanding. How privileged we are to have you share with us." ~ Zaundra C
"I sincerely enjoyed your book. I read it every spare minute to the end. Experiencing first hand the details of the lives of many of the settlers through the stagecoach driver's necessity of food & sleep & changing horses is an innovative approach and kept my interest through the entire book. I'd never thought much about the stagecoach drivers; they did have a panoramic view of the people and events of the time and place. The character development and attention to details made me feel I was right there in the midst of the events."
~ Louise B
"As a descendent of Norwegian, Swedish, and Irish immigrants who settled in Minnesota, Illinois, and North Dakota in the nineteenth century, I found your novel ABERCROMBIE TRAIL captivating. From beginning to end I found myself rooting for Evan and the people around him, especially Inga. Your descriptions of the people, places, flora and fauna, and the climate brought back fond childhood memories. Your rendering of the historical drama of the Dakota uprising and the effects of the Civil War on the lives of the frontier people are superb. " ~ Mange Takk. Michael N.
"I read non-stop Pomme de Terre. Couldn't put it down. That was my experience with your first book, also. Both books bring to life the sad, tragic and fascinating history of the Sioux Uprising and the aftermath with characters the reader cares about. I have thought of the young people who said goodbye to their loved ones, often forever, and faced danger and death to go west. How could they have the courage to do it? Your book puts a face to one such young woman's lonely journey–well, two women, but Serena's longing for her mother touched my heart." ~ Linda B
"I remember in your excellent reading you saying at the workshop they advised you to give more of the Native American point of view and I'm glad you did that. It is important to realize they were trying to preserve their way of life and protect their families. Congrats on another success." ~ Louise
"I was so impressed with your books and they actual made me feel kind of ashamed that I didn't know more about the history especially being from this state. One thing I learned is how the Indian/Settlers wars happened at the same time as the Civil. I didn't realize that. I was so glad you were able to portray the Native American side as well as the white side. I was glad it wasn't a one sided telling. The books caused me to want to know more so I am anxiously awaiting the third." ~Jackie
"I enjoyed your first book–but your second one was even better! I can't wait for your third." ~Beverly H.
"Thank you for coming to our book club and sharing your thoughts about "Abercrombie Trail," we were spellbound with your stories and experiences. And your poetry was the frosting on the cake. Thank you for your generosity of spirit." ~ Elsa W
"I have never been a reader, even when I was in school, and that was a long time ago. I just finished reading ABERCROMBIE TRAIL, and it was wonderful!! My ancestors came from the Storen-Trondheim area of Norway in 1880…..Thank you so much for writing it. I really enjoyed it." ~ Jerry S