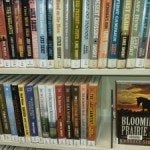 Keith and I had great fun visiting Sons of Norway Lodges in Sarasota, Tampa, Fort Meyers and Clearwater last month. How fun to meet fellow Scandinavians, many with Midwestern roots.  Special thanks to Shelley Cooper for her wonderful hospitality at Estero Island.  Also thanks to Edith and Fred Olsen for hosting us in Bradenton.  After the Sons of Norway groups we traveled on to Marco Island where we spent three delightful days with Colleen and Gary Moser.  While there, we attended a reception in my honor and visited her AAUW book club. Thanks to  Blue Cottage Agency for arranging my other Florida events.
One of the highlights of the trip was spending a writing day at the Pinellas County Library.  How exciting to see the Abercrombie Trail Series on the large print shelf.  If you look closely, you'll notice  my books next to the work of other Western Writers of America members.
We also visited cousins Jerry and Sue Simar.  Did we miss the subzero Minnesota temps back home?  Not a bit!