Jus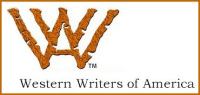 t returned from another great convention put on by the Western Writers of America. This year it was held in Kansas City. My hubby and I took our 16-year old grandson, Jack Kimbler, along to share the twelve hour drive. Jack has his learner's permit, and did very well on the trip, logging about ten hours of driving time to add to his needed fifty hours before he can take the driver's test. By his performance on the trip, I'd expect he passes without problem.
The WWA people always put on a wonderful convention. It seems that each time I attend, something good happens in my writing career. Of course, that is the purpose of networking and schmoozing! This year I made good connections with e magazines and hard-copy magazines looking for short stories set west of the Mississippi. I'm going to take them up on their invitation to submit my stories for consideration. Novel writing is a marathon, and I like the sprint-like elements of writing short stories. I'll keep you posted on the progress (or lack thereof!).
It's always fun to reconnect with old friends from previous conventions. Sherry Monahan and Nancy Plain published a great cookbook with recipes submitted by WWA members. The proceeds go to the Homestead fund to promote western writers. It was a thrill to see my mother's recipe for cabbage meatloaf posted in its pages along with recipes from famous authors.
The convention was rich in content. I heard the legendary author, William Least Heat Moon, talk about writing The Blue Highway, which was on the Best Seller List for 42 months back in the 80s, and his new book, Celestial Highway. Interesting his perspective on the changes in publishing since the 80s. I also attended lectures about the Negro Baseball Leagues, Writing about Environmental Issues, an interesting panel on marketing and publicity and many more. As always it was a thrill to see the Spur Awards handed out at the banquet. Thank you, WWA. See you next year in Billings, MT.