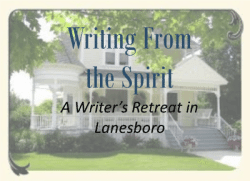 Enough of winter already!  Let's take a break to refresh our spirits and sharpen our writing skills.
On April 10,11,and 12, 2015, I will be hosting a writing retreat at Anna V's B&B in beautiful Lanesboro, Minnesota, the B&B capitol of Minnesota.  The retreat will begin at 7pm on Friday night with a group session and writing time.  Saturday will be filled with writing sessions, instruction and sharing.  The retreat will end at noon on Sunday.
The focus will be writing about spiritual themes in creative, courageous ways.
If you're interested, you need to reserve your spot by contacting Steve and Susie Harris at Anna V's at 507-467-2686.  The retreat is $80 with lodging separate.  Other B&B's will also host participants with the sessions to be held at Anna V's.  Steve or Susie will help you figure out what will work best for you.
I think it will be great.  Can't wait!   Download Flyer: Spiritual Writing Retreat with Candace Simar