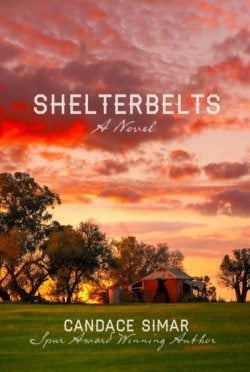 It's exciting to see Shelterbelts falling into place.  The book is written, edited, and the cover finalized.  Didn't Chip Borkenhagen from River Place Press do a super job on the cover image?  The good folks at North Star Press tell me the new baby is at the printer with an expected due date in early May.
 Jim Norwood is hard at work on the audio version.  I spent an enjoyable evening listening to his first draft of Shelterbelts.  His great voice makes my work sound better.  The invitations are going out for the book launch scheduled for Saturday, May 16 from 1-3:30 at the Franklin Arts Center in Brainerd, MN.  It's an open house and I hope you all can come and help celebrate.
Shelterbelts tells the story of Tia Fiskum, the old maid of Tolga Township 1945.  Tia took over the farm after her father's death and when her brother went to war.  Now her brother is coming home from a POW camp in Germany, the man she hoped to one day marry takes a town girl for a bride and Tia must navigate through a season of great change and turmoil.   
It has been a long journey from that first workshop with Robert Olen Butler in Duluth 2005 where I wrote my first chapter.  Since then I've worked with Jonis Agee at the 2010 Master Novel class in Taos, and spent a year of editing with Patricia Weaver Francisco.  My online critique group and local writing pals struggled with me through every sentence.  My agent, Krista Soukup, diligently worked to find the very best publisher.  
I think you'll enjoy my characters from Tolga Township where everyone is Scandinavian and Lutheran, and the only public buildings are the country school, the Lutheran Church and the Farmer's Union Hall.  It's a lot like the place where I grew up.  It certainly is a time and place that no longer exists.
Many have asked when they can purchase their copy.  You can expect to see it in stores by the end of May.  I will have copies for sale at my book launch on May 16, and I'm taking advance orders through this website.  I hope you add Shelterbelts to your summer reading list.