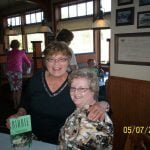 2015 has been a whirlwind with the release of Shelterbelts, the marketing events and next project.  What fun to meet readers from across the country. Keith and I spent a wonderful March in Arizona where I spoke to libraries and a Sons of Norway group.  Thanks to the Sun City Lodge for great hospitality and warm friendship.  While in Arizona, I reconnected with cousins and extended family, attended the Tucson Book Festival and attended a WWA gala at a dude ranch.  What fun!
The book release party for Shelterbelts is a special memory I will always cherish.  Thank you to each of you who attended and helped me celebrate.  Also special thanks to the Five Wings Arts Council for an amazing grant that allowed me to spend three weeks on a personal writing retreat to work on my next project.  The dear sisters at Annunciation Monastery (Bismarck, ND) provided private writing space, peace and quiet, prayer support and friendship as I spent long days working on a YA novel with the working title of Escape to Fort Abercrombie.  It's nearly completed and hopefully will be published soon.
We traveled to Lacrosse, Wisconsin for a great Scandinavian convention, visited many Sons of Norway lodges across the region and did a poetry reading at the St. Cloud Diocesan Rural Life Celebration in Morris, MN.  The highlight of every year is the Minot Hostfest.  Besides these larger events were book clubs, senior groups, libraries, a writing retreat that I led in Lanesboro, and a couple of workshops my sister (Angela Foster) and I did together.  Whew!  No wonder I'm tired. You can check my event page for a full list of future and past events.
Thanks to each of you for enriching my life, reading my books and inviting me to speak to your groups.  This writing journey has been a wonderful adventure.  THANKS!
A very Merry Christmas and a blessed 2016 to you and your families.  Mange takk!