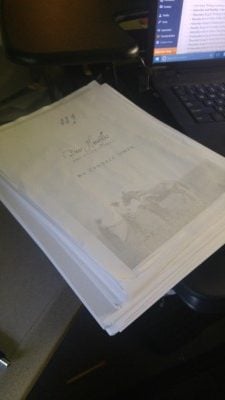 I'm just finishing up my book of short stories titled, Dear Homefolks. Most of life is messy, and writing is no different. I've been working on the final edits with the good folks at Evergreen Press. I had worked hard to send them a polished copy. Sigh. They found lots of errors to correct. I corrected. They found more. I found more. I think we're finished.
What kind of stories are in Dear Homefolks? Most of them are frontier stories, pulled from my research for my novels. Some are placed in modern times. Dear Homefolks even includes a bit of memoir. For those of you waiting for a sequel to Shelterbelts, I have included a short story set in Tolga Township that gives you a peek into the lives of Tia and Norman a few months down the road from where Shelterbelts ended.
Remember the old saying about not wanting to see the sausage made? It might also apply to the writing process. A reader enjoys the final product more if they don't have to witness the nitty-gritty process of creation. I think you'll like Dear Homefolks. It looks a lot better since the edit. Homefolks should be out in August. I can hardly wait.