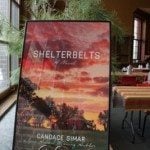 The Kirkus Review people have given their verdict on Shelterbelts.  I'm celebrating.  The reviewer obviously got my humor, liked my characters and enjoyed the book.  Yeah!  Good news!  She also describes it as disturbing.  Hmmm.  What could be disturbing about my Norwegian farmer book?  Perhaps a city person wouldn't understand the harsh realities of farm life.  In my first chapter, Tia must kill a badly deformed calf.  I suppose that would upset someone unused to the role of animals in a farm setting.  Farm kids would understand that animals, though loved and cherished by the farmers, are raised for their contribution to the food chain.  Let me know if you come up with any insights.
Here's the complete review:
BOOK REVIEW
A Scandinavian community experiences trials and small triumphs in this novel set in post–World War II Minnesota.
Capable Tia Fiskum, unlike many other young people in Tolga Township, longs to one day take over her family's farm.
Her dreams are shattered, though, when the man she loves, Clyde Hanson, marries a town girl, Vera, who's repulsed by
farm life and dreams of running away to California. Meanwhile, Frieda Carlson, the young German wife of a war
veteran, struggles with her English and the provincialism of her Norwegian neighbors. When Tia's brother Norman
returns from the army, everyone assumes that he'll take over the farm that Tia covets. But his alcoholism and wanderlust
instead drive Tia to shield Norman from scandal—particularly from Tillie, the eavesdropping town gossip. It was
Norman who planted the shelterbelts, rows of trees that form a windbreak, around the town. Just as some of those trees
have fallen while others have remained upright, some of the residents of Tolga Township fall to tragedy while others
draw upon reserves of strength from unlikely sources—even the supernatural: when Nels Carlson claims a miraculous
recovery from arthritis, the town's good Lutherans fear that he's become a fanatic. This latest novel by Simar (Blooming
Prairie, 2012, etc.) is an engrossing portrayal of Norwegian farmers whose passive aggression tamps down their real
passions. Each chapter is written from a different point of view, some in first person and some in third, and through
them, Simar weaves a tale of longing, jealousy, rage, lies, and joy. Although the characters often back-stab one another,
they also come together with genuine warmth when one of them is in trouble. Characters that could have been clichéd
are instead made fresh by Simar's revelations of their fears and hopes. The humor is appropriately subtle and sarcastic,
and the descriptions ("Gunda Olson unfolded from the kitchen chair like a rusty pocket knife") are delightful.
A moving, disturbing, and hilarious story of postwar rural America.