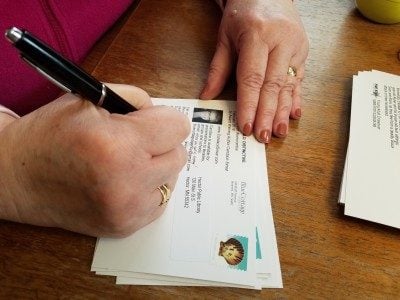 Thanks to my successful Five Wings Arts Grant, I am doing a media blitz with Blue Cottage Agency to provide marketing and expertise to promote my newest book, ESCAPE TO FORT ABERCROMBIE. I spent the morning helping my publicist Krista Soukup get the postcards ready to go out to Minnesota libraries.
What fun to recognize the places on the address labels. These past eight years I've visited many libraries through the Legacy Arts Program. I've been to bigger libraries like Moorhead and St. Paul, and I've been to tiny libraries like Clearwater and Fulda. As I jotted personal notes on the cards, I pictured the libraries and good people of Fulda, Wabasso, Glenwood, Lamberton, Jackson, Tyler, Tracy, Long Prairie, Morris, Bemidji, Bagley, Grand Rapids,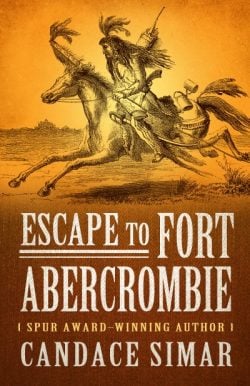 Sleepy Eye, Hendricks, Marshall, Redwood Falls, Fergus Falls, Little Falls, Crosby, Pierz and many, many more. What great memories.
Thank you for welcoming and encouraging my work. The best part of writing is connecting with readers. You have not disappointed. THANK YOU.
Candace
Young Ryker Landstad lives on a small farm in Minnesota. Attacked by the Sioux, his mother and his little sister are kidnapped while his father is fatally wounded. Fourteen-year-old Ryker and his younger twin brothers decide there is danger in staying at the farm, which has been set afire, and begin the ten-mile trek to Fort Abercrombie. To avoid the Indians, they must walk through tall grass and set out for Whisky Creek, which tends to lead them farther from the fort. Ryker promises the twins he will rescue their mother and sister. Arriving at Fort Abercrombie, they find it besieged by Sioux warriors.
This is a fast-paced novel set on the isolated Minnesota frontier. The interaction between the boys, as they face difficult odds while questioning the decisions made by young Ryker, adds depth to the story. An excellent coming-of-age tale of youngsters facing insurmountable odds on the frontier. The dangers they face are described in detail, which keeps the reader from putting the book down.