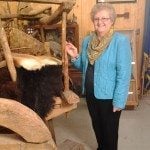 It's difficult to imagine that simple wooden carts pulled by oxen could settle a territory but they did.  The Red River ox carts brought goods from Canadian settlements and the northern plains down a long trail to pioneer St. Paul, Minnesota.  The carts, filled with supplies and furs, stretched across the prairies in long caravans.  It was said that anything a settler wanted could be found in the ox carts–everything from spices to livestock.   Their squeaky wooden wheels could be heard for miles!
The ox carts and their influence on early settlements in Minnesota inspired me to write my historical novel, POMME DE TERRE.  It was great fun researching this vital part of Dakota/Minnesota history.
A recent visit to the Grant County Museum in Elbow Lake provided this photo opportunity.  Pomme de Terre, an early pioneer outpost not far from Elbow Lake, was a stop along the ox cart route. The deep ruts of this worn trail can still be found across Western Minnesota.  A day trip to the Grant County Museum would be worth your time.