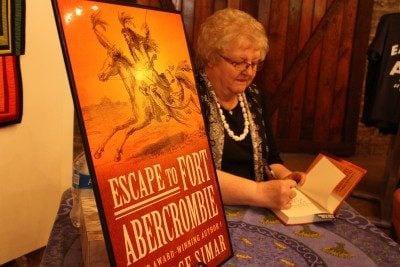 Thanks to all of you who helped make the launch of Escape to Fort Abercrombie a success. How fun to connect with readers. The Crossing Arts Alliance graciously hosted the event and Lakes Area Music Festival allowed us to use their beautiful space for my book reading. My daughter, Faith Kimbler, helped with the food prep. My good friends, Lois Kuntz and Sue Ready, stepped up to man the refreshment table, and Dr. David Boran tended the wine bar. Jim Olsen provided beautiful music. Keith and my publicist's mom, DiAnne Rolfzen, ran the book table. Cheryl Craig rescued me by performing masterful readings from Escape to Fort Abercrombie when a sore throat prevented me from doing it myself. My agent and publicist Krista Soukup from Blue Cottage Agency made her magic to pull it all together. Also a call out to Five Star Cengage for publishing the book, and my sister Angela Foster who is my go-to person for early editing. I appreciate you all so very much.
I was inspired to write Escape to Fort Abercrombie by a local person who had read Abercrombie Trail and wrote me a letter telling me his family story. Turns out his great-grandfather came home from school to discover his family massacred by the Sioux during the 1862 US/Dakota War. The fourteen year old had sense enough to bring his younger siblings to Fort Ridgely for safety. I borrowed this bit of history and wrote a story about children escaping to Fort Abercrombie during the same time period. It's a coming of age, adventure story appropriate for both kids and adults.
Thanks again to everyone who came out to help celebrate the release of Escape to Fort Abercrombie. It has been a long time in the works, and it's finally introduced to the world. I hope you find time to read it. If you do, please consider leaving an Amazon/Goodreads
review.