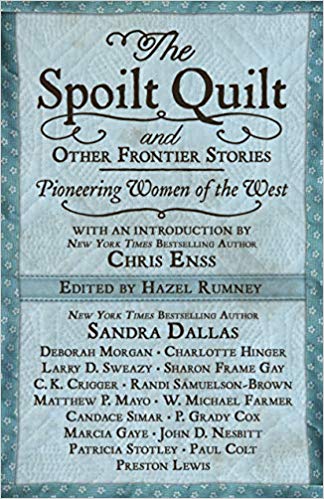 Author Candace Simar Included in National Anthology Book Signing December 14 at Cattales Books
Award-winning Pequot Lakes author celebrates her story, "Berserker on the Prairie," included in Five Star Cengage's anthology titled "The Spoilt Quilt and Other Frontier Stories," edited by Hazel Rumney. The book includes other stories by Sandra Dallas, Larry D. Sweazy, Matthew P. Mayo, C. K. Crigger, W. Michael Farmer and John D. Nesbitt."Western literature has passed in and out of fashion; at present there's a movement toward openness and candor regarding the U.S. march to the west," states the Library Journal in their starred review.
"One standout story is Candace Simar's "Berserker on the Prairie" says the Historical Review Society. "Main character Olava Wick is a Norwegian immigrant living in the Dakotas working as a midwife/unofficial country doctor. Her dry wit and withering insights make her an appealing character who deserves to be in a novel.".
'The Spoilt Quilt and Other Frontier Stories" will delight historical fiction fans….Ranging from high-action traditional Westerns to introspective historical dramas set in the American West, readers will discover previously untold stories about the strong women that shaped the iconic American West. Each piece in this 16-story, female-focused anthology packs a punch. The heroines confront death, disease, rape, domestic violence, and poverty, all while living in an era that denies them equal legal status . . . it's about personal strength in a time and place when that was often the only resource an individual had in excess. To that end, The Spoilt Quilt provides brief glimpses of optimism in an otherwise overcast world.", says Booklist.
For a quarter of a century, Five Star Publishing, an imprint of Gale/Cengage, has offered readers the best in new voices, as well as many beloved authors, in the traditional Western and American frontier fiction genres.
Simar will sign copies of "Spoilt Quilt" on Saturday, December 14 from 11am to 1pm at Cattales Books in Downtown Brainerd. "Readers have been asking for more of my work," Candace said during a recent interview. "I think they will like 'Berserker on the Prairie'."