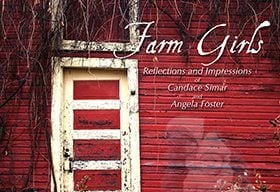 ---
Candace Simar narrates "Greatest Generation"
from the new release "Farm Girls"
Candace Simar, in collaboration with her sister Angela Foster, present a collection of poems and essays in their book Farm Girls.
If you learned to swear in Norwegian or shared a two-holer outhouse with your cousin, you'll enjoy the poetry and prose of these sisters. From memories of Norwegian ancestors and growing up on a Minnesota dairy farm to dreams of Oprah's couch and rapping with Eminem, Farm Girls will take you back to the days of rural schools, 'moon light, star light, hope to see a gost tonight', and the auction of the family farm.
Fan Mail:
Dear Candace, I just read "Farm Girls" and was knocked for a loop (a good loop). My wife's family came over from Norway in the mid to late 1800s and settled in Spring Grove, MN. You two sisters (each differing in style) have really really aced it. Your use of imagery is great. I am currently scanning into the computer all the pictures in my mother-in-law's large and random collection of photos of kids, weddings, anniversaries, trips, holiday get togethers, dinners, scout awards. You name it. So far 3500 or so pictures. I put them on facebook for all the relatives to see. It has been very rewarding. Some of the photos have names, dates on the reverse, but many do not. I have had to guess, to rely on others' comments to figure out who everyone is. This has resulted in some great family friendships being rekindled, and I know my wife's family as I never could have dreamed of before. Your book came at just the right time to hit me square in the heart, and I want to compliment you on the way you and your sister teamed up to make this happen. You hit the heart, she hits the mind. What a great book. My advice to the Norwegian reader: Bring Kleenex! Thanks. Phil S.
Farm Girls is Out of Print