Candace Simar is a Pequot Lakes, Minnesota author with a passion for her Scandinavian heritage and a deep love of history. Candace grew up dreaming how life might have been for her family in the early days of Minnesota settlement.  She became concerned when her college-aged children did not know this history, and took her son's challenge to "write a book."
Her historical novels include:  SHELTERBELTS 2015,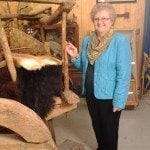 receiving awards from both the Midwest Book Awards and the Willa Literary Awards in Historical Fiction;  Spur Award Winning  ABERCROMBIE TRAIL  SERIES ( Abercrombie Trail 2009, Pomme de Terre 2010, Birdie 2011,  and Blooming Prairie 2012).
Her work has received awards from the Western Writers of America, Women Writing the West, Midwest Book Awards, Bob Dylan Creative Writing Contest, Lake Region Review, League of Minnesota Poets, National Federation of State Poetry Societies, Dust and Fire, and Brainerd Writer's Alliance.  FARM GIRLS 2013 co-written with her sister, celebrates growing up on a dairy farm. Candace is a grateful Five Wings Arts grant recipient.
Candace enjoys speaking to groups about her research and writing.  Check out her event page to see where she's been, and a list of upcoming appearances. Her novels are also available in large print, audio and e- books.      www.candacesimar.com
Candace is a member of the Western Writers of America, Women Writing the West and the Catholic Writer's Guild.