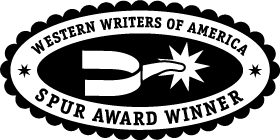 Simply spoken, I'm shocked and stupefied.  It may sound silly, but spin me a little slack.  Of course, I'm ecstatic.  BIRDIE, my third novel in the ABERCROMBIE TRAIL SERIES, just won the 2012 Spur Award for best western juvenile fiction.
I didn't see it coming though my sister, Claudia, tells me that BIRDIE is her favorite of my novels.  It should be her favorite since Claudia first suggested that I write about the two little girls from ABERCROMBIE TRAIL. These small sisters, stolen by the Sioux during the uprising, play a prominent role in POMME DE TERRE. BIRDIE continues the sad saga of Ragna Larson growing up as an orphan.  Ragna is the only survivor in her family.  She doesn't know what happened to her little sister and is obsessed with finding her.
Several have expressed surprise that BIRDIE was given an award for juvenile fiction.  I must confess that I didn't write the book with a particular age in mind.  I just wrote the story.  It's stupendous that Birdie is enjoyed by readers of all ages.  I'm ecstatic that it receives the prestigious Spur Award.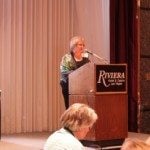 So I've bought my plane ticket and will travel to Albuquerque in June to receive my award at the Western Writers of America Convention.  The Spur Award is an actual western spur mounted on a plaque with the author's name and book title inscribed.  How satisfying for my work to be recognized with a national award.
Lest I become sidetracked, I will segue into my next thought.  Writing is a mostly solitary endeavor. The hours spent alone at my computer seem worth it when I see that my writing connects with readers.
Does this Spur Award spur me on to more writing?  Oh yes.  It certainly does.
Simar's Blooming Prairie Western Writers of America Spur Award Finalist
July 9, 2013—Las Vegas, Nevada—Candace Simar, Pequot Lakes Minnesota Author, was chosen as a Spur Award finalist in the best western juvenile fiction category for her latest historical novel, Blooming Prairie (North Star Press, 2012).   The prestigious honor of a Spur Award is an annual literary prize awarded by the Western Writers of America.  Simar received her award June 28 at the Western Writers of America annual convention in Las Vegas, Nevada, where she also served as a panelist.
"Simar's descriptions of the natural world are beautiful.  Her characters are drawn with subtlety and depth.  There are unforgettable death scenes and tender weddings.  This is a story of the bonds of family and friendship, of perseverance and love.  It is a rare book, powerful and true.", Nancy Plain, award winning author and Spur award judge.
Simar is author of the "Abercrombie Trail" series of historical novels from North Star Press of St. Cloud, which recount the story of Scandinavian immigrants in early Minnesota during the 1862 Sioux Uprising.  The series includes Abercrombie Trail (2009), Pomme de Terre (2010) and Birdie (2011). Birdie won the Spur Award for Best Western Juvenile Fiction in 2012.