Enjoy this guest post from fellow historical fiction author Jane Colletti Perry, author of Marcello's Promise.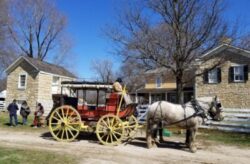 Two miles from my house is the original Santa Fe Trail, disguised today under a layer of pavement and renamed the Kansas City Road. During the 1860's it was a major highway linking the Missouri River and Kansas City with the American Southwest. Adjacent to the trail is the Mahaffie Stagecoach Stop and Farm where James and Lucinda Mahaffie and their eight children once lived. It's the only working stagecoach stop left on the Santa Fe Trail.
The family operated a prosperous 320-acre farm thirty-five miles west of Independence in Olathe, Kansas. Besides running a farm, they also served meals to stagecoach passengers and travelers in the unique cellar dining hall and kitchen of their home. Sometimes they served as many as seventy-five passengers a day. That's a lot of drive-through for a single day in the 1860's!
The cellar kitchen and dining hall. Note the cookstove Lucinda used to prepare meals for hungry travelers.
This part of Missouri and Kansas was a melting pot on the frontier with Yankee abolitionists and southern slave owners, Hispanic merchants and American Indians, African Americans and French fur traders. Discover what life was like for the Mahaffies, their neighbors and travelers when you visit the original 1865 limestone farmhouse, operated today by the City of Olathe Parks and Recreation Department.
The farm comes to life with living history activities on weekends in the spring and fall: ride the stagecoach, watch the blacksmith at work, taste a hot cross bun, visit the Mahaffie house or the enormously interesting Heritage Center filled with history and interactive displays. This year marks the 200th Anniversary of the Santa Fe Trail. If you're in the area, you really should take advantage of this historic treasure on the trail. Check their website for dates and times. https://www.mahaffie.org/mahaffie-home-page.
Spring is on the way. Many of us have had our vaccinations with more adding to the number every day. What historical sites are near you? Don't wait for company to come knocking on your door before you hit the trail–Santa Fe or otherwise–and find a great place to enjoy.
Author Bio: Jane Coletti Perry grew up in a small Midwestern college town. With a degree in English and a love of history, she has written a memoir, "Finding Sarah Jane," published in Patchwork Path: Treasure Box, and her articles have been appeared inThe Best Times, a suburban Kansas City periodical. She has a passion for preserving family history, learning how the past has shaped who we are, and searching our collective history for stories of the heart and sharing them in fiction. Jane and her husband have two children and five grandchildren. They have lived throughout the United States and England, where she has sung in church choirs, symphony choruses, and women's ensembles. She loves celebrating anything with the family and kayaking at their summer lake house. Her fantasy is to be onDancing with the Stars for Grandmas.Marcello's Promiseis her first novel. Jane is a member ofWomen Writing the WestandWyoming Writers, Inc.