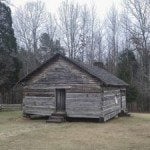 Visiting Shiloh was one of the highlights of my recent Florida Book Tour.  I'm researching this famous Civil War battlefield for my present writing project, and doubly interested because Keith's ancestors fought at Shiloh with an Iowa regiment. Keith's relative was captured at the Hornet's Nest, and later died as a prisoner of war.  We were able to find the military records at the museum.
The Union Army arrived at Pittsburgh Landing to face the enemy, mostly with green recruits.  How quiet and hallowed this place, a graveyard actually, where over 23,000 Americans were killed or wounded.  Around the historical site are monuments to honor the soldiers from different states, both North and South.  A reproduction of the original Shiloh Methodist Church caught my interest.  A photo of the church is posted below.  The battle raged in that peaceful place, markers show where the different regiments clashed.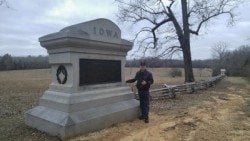 Tennessee was beautiful in January.  You can see it was cool enough to wear jackets, but much better than below zero Minnesota!
After a  day at Shiloh, we headed to Corinth, Mississippi, for another day of research, this time from the Southern point of view.