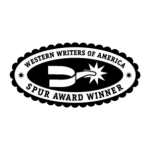 What a privilege to be invited by the Western Writers of America to be part of the judging panel for the 2014 Spur Award in Juvenile Fiction.   I'll admit that reading the huge stack of this year's submissions was a little daunting.  The books started arriving early in the fall and kept coming until the very last day of the year.  The requirement was for a book set west of the Mississippi River in any time period or a frontier topic.  Some books took place in the Civil War era, others in modern-day.  One had characters hoping to work with a rodeo, others dealt with hunting or herding cattle.  A few were Native American stories.
I kept notes about each book and a personal ranking tally with the intent that my top five choices would be sent to the judging chairperson when the books were all read.  Books that were well written, with well-developed characters and a dynamite story line rose to the top of the heap.  I made notes of problems with point of view, dialogue, character development or story structure.  Some of the submissions were beautifully written–others needed another edit.
At the end of this process I chose five novels so beautifully written that any of them could have easily worn the Spur Award.   PAPA'S GOLD by Ellen Gray Massey took this year's prize and will receive her Spur Award in Sacramento at the WWA Convention in June.  I loved this book about a family's struggle during the Civil War.  PAPA'S GOLD took first on my personal tally.  The two finalists were also in my top five.  HOW I BECAME A GHOST by  Tim Tingle tells a brilliant story of the Cherokee Trail of Tears.  SUMMER OF THE STAR by Johnny Boggs brings the reader along on a cattle drive back in the day of cowboys and rustlers.  Though the Spur Award is given for Juvenile Fiction, don't let that label fool you.  They are perfect for any age.