Hardcover/Large Print Edition Now Available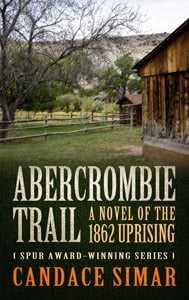 New hardcover/large print edition of Abercrombie Trail now available.
As Featured On Common Ground
Two sisters (Candace Simar and Angela Foster), reminisce in poetry and prose as they return to the family farm and share the triumphs and trials of their immigrant forbears on Lakeland Public Television's Common Ground
Author Blog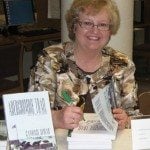 It's a dream come true. Thanks to Jim Norwood, Abercrombie Trail is now available in audio. Jim did a terrific job, not only reading, but performing the entire novel. I'm sure you'll agree he is amazing.
Enough of winter already!  Let's take a break to refresh our spirits and sharpen our writing skills. On April 10,11,and 12, 2015, I will be hosting a writing retreat at Anna V's B&B in beautiful Lanesboro, Minnesota, the B&B capitol of Minnesota.  The retreat will begin at 7pm on Friday night with a group session […]
           Last week I gave a presentation for a Women's Christmas Tea at Light of the Cross Lutheran Church in Garrison, MN.  Several churches join together every year to raise money for the local food shelf.  It's a dress up affair, and they asked me to come wearing hat, gloves and pearls.   A first! Thank […]